Work from Home Franchise: Pros, Cons, and Is It Right for You?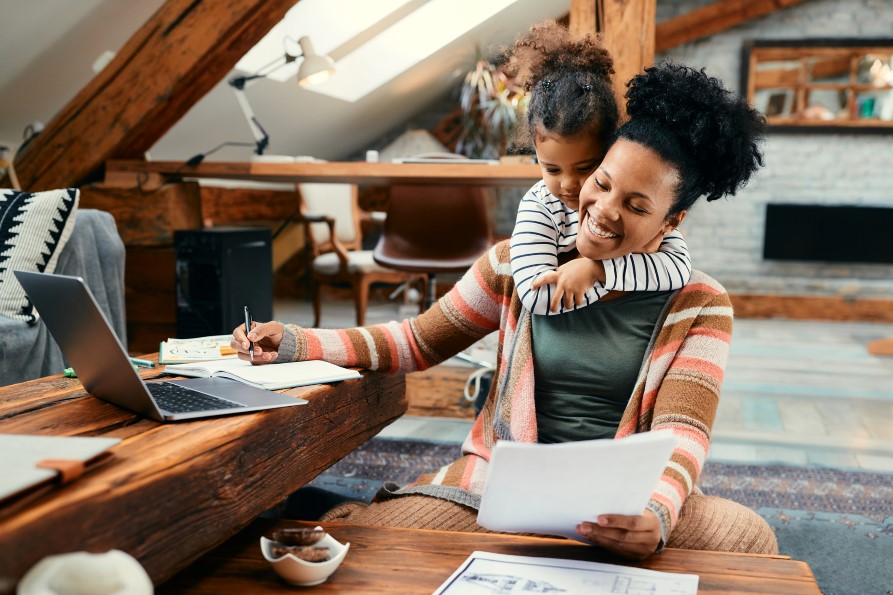 In recent years, the concept of working from home has gained immense popularity. The COVID-19 pandemic accelerated this trend, with remote work becoming the new norm for many.
Here, we will learn some pros and cons of owning a work-from-home franchise and explore their daily operations, and how they compare to traditional brick-and-mortar franchises. Additionally, we'll look at alternative options for those seeking entrepreneurial opportunities without the need for a physical store. From there, you can compare your options to find the right business model for the work-life balance you need.
Can I Own This Type of Franchise?
Some industries may lend themselves better to this type of setup, but it is an attractive option for many. According to the U.S. Small Business Association, 50% of all small businesses begin at home. (The SBA also reports that 60% of all businesses without staff are home-based.) With 32.5 million small businesses, that means about 16.25 million are home-based. In franchising, these home-based businesses cover a wide range of industries, from e-commerce and digital marketing to consulting, tutoring, home services and more. The key is to find a franchise that aligns with your skills, interests, and financial capacity.
Work-from-home franchise opportunities provide several advantages, such as:
Lower overhead costs: Traditional brick-and-mortar businesses often come with substantial upfront expenses for rent, utilities, and maintenance. Working from home eliminates these costs, allowing you to allocate your resources more efficiently.
Flexibility: You have the freedom to set your own hours and work from virtually anywhere with an internet connection. This flexibility is especially appealing for individuals with busy lifestyles or family commitments.
Reduced commute: Say goodbye to the daily commute and the associated time and stress. Working from home can often promote a healthier work-life balance.
Daily Operations of a Work-From-Home Franchise
The daily operations can vary significantly depending on the industry and business model. However, some common tasks and responsibilities include:
Marketing and promotion: Promoting your business through social media, email marketing, and other online channels is crucial for attracting and retaining customers.
Customer service: Providing excellent customer service, whether through phone calls, emails, online chat, or in-person consultations, is essential for building a positive reputation and ensuring customer satisfaction.
Product or service delivery: If you're selling products or services, you'll need to manage orders, shipments, and ensure timely delivery or completion.
Financial management: Keeping track of expenses, revenue, and taxes is a fundamental aspect of running any business.
Networking: Building and maintaining relationships within your industry can open doors to collaborations, partnerships, and growth opportunities.
Comparing Work-From-Home to Brick-and-Mortar Franchises
Let's examine how these different types of business models stack up in terms of initial investment, ongoing costs, and daily responsibilities:
Initial Investment
Work-from-home franchises typically require a lower initial investment compared to brick-and-mortar franchises. You'll typically need a computer, internet access, software, and marketing tools. In contrast, traditional businesses demand capital for leasing or buying physical space, interior decor, equipment, and inventory.
Ongoing Costs
Franchises operated from home often have lower ongoing expenses. You'll need to account for marketing, software subscriptions, and perhaps occasional outsourcing. Brick-and-mortar franchises incur recurring costs like rent, utilities, and maintenance.
Daily Responsibilities
The daily responsibilities of these types of franchises usually involve managing online operations, marketing, and customer interactions. Brick-and-mortar franchises require more physical presence and responsibility for in-store management, inventory control, and staff supervision.
Alternative Options for Entrepreneurship
For those who want to explore entrepreneurship without a brick-and-mortar store, several alternative options exist:
E-commerce businesses: Start an online store selling products or shipping goods. E-commerce eliminates the need for physical inventory and allows you to reach a global audience.
Consulting or freelancing: Offer your expertise in areas such as marketing, design, finance, or IT services as a consultant or freelancer. Many businesses outsource specialized tasks to professionals working from home.
Affiliate marketing: Promote products or services for other businesses through affiliate programs, earning commissions on sales generated through your referrals.
Online teaching or coaching: Share your knowledge or skills by offering online courses, tutoring, coaching, or mentoring.
Remote sales or real estate: Explore opportunities in remote sales, real estate, or insurance, where you can conduct meetings and transactions virtually.
The Hybrid Option
While PremierGarage is not a typical work-from-home franchise, it also doesn't require a traditional brick-and-mortar setup. PremierGarage utilizes a hybrid business model that allows for the freedom of not having to operate out of a storefront but carries the responsibilities of administrative and office duties (which can be performed out of a home office) and managing a warehouse, keeping your inventory separate from your workspace.
As one of the nation's leading garage flooring and storing solutions franchises, PremierGarage presents prospective franchisees with a flexible and cost-efficient business model that allows you to maintain a healthy work-life balance as you grow your business. Visit our franchise FAQs page to get more answers about what it looks like to become a PremierGarage franchisee.
Inquire now to speak with someone on our franchising team. We look forward to hearing from you. Top of Form