The Home Services Industry is Thriving
Live Your Dream in a Booming Industry
You might be looking at the PremierGarage franchise opportunity and wondering if the products and services we provide are a "want" rather than a "need" for homeowners. But if you look at home improvement spending, it's been increasing by double-digit percentages annually.
Home improvement spending was up 20% year-over-year in 2021, rising to an average annual spend of $15,680. Not to mention, the percentage of households that shifted their budgets for commuting to do home improvement projects instead increased from 33% in 2020 to 40% in 2021, according to the home projects website Angi.
The garage/storage sector in the home services industry is one of the fastest-growing segments. The current real estate market has caused many homeowners to stay in a house that doesn't meet their growing need for more space, so instead, they've had to get better organized and turn their garages into more functional spaces, an extension of their home, making the storage solutions and garage flooring options offered by PremierGarage more important than ever.
Being a business owner in the home services industry has several advantages
Homeowners are electing to have a professional handle their home improvement projects as opposed to doing it themselves, and garage storage and flooring systems are considered a necessity rather than a luxury.
You'll design space-saving, custom garage cabinets, overhead storage racks, including Smart automation systems, shelving and countertops, and install garage flooring options to create dream-worthy spaces.
Our proprietary 3D design software creates renderings of the homeowner's garage space, making our clients say "yes" faster as they can easily envision the end result with our cutting-edge technology.
PremierGarage franchise owners don't need prior experience with storage and flooring solutions, our comprehensive training program covers it all including design, installation, and best practices for running your business.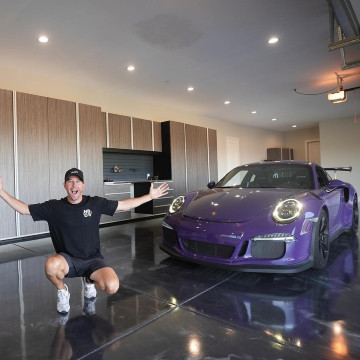 TJ Hunt Loves Us
PremierGarage was honored to transform car aficionado, TJ Hunt's, garage into the garage of his dreams with our PremierOne® garage floor system, Stratus, that has special effect pigments to create pearlescent and iridescent effects that mimic natural rock and stone formations.