How to Start a Remodel Business: 5 Steps and Why Consider Franchising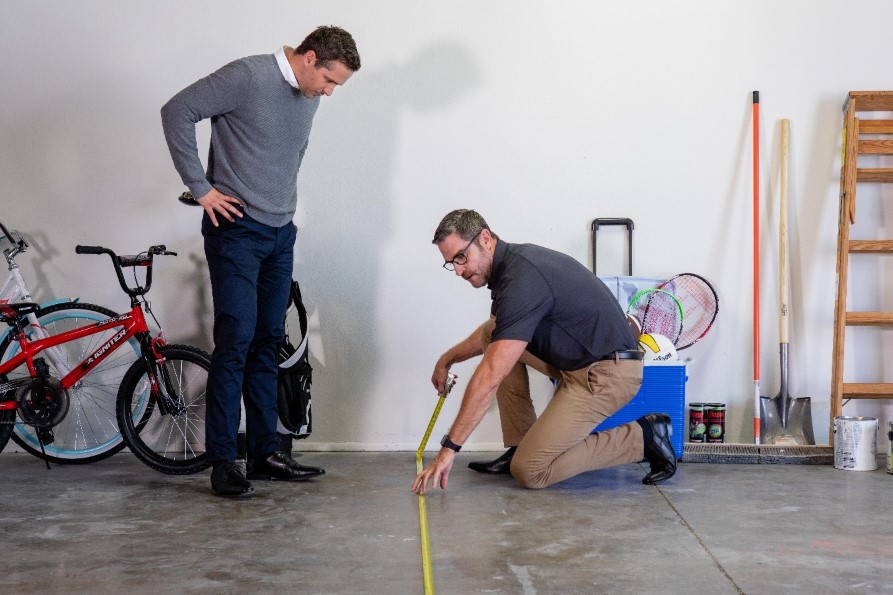 Starting a remodel business can come with some speed bumps. Learn what it takes to get started in the remodeling industry, and why to consider a home service franchise.
Choose Your Focus
Remodeling franchises have become more prevalent in a day in age where not only are people spending more time at home, but we are also trying to find ways to make the most of our living and workspaces. The act of remodeling our own spaces can prove difficult, and people place a high premium on tasks they are unable or unwilling to do themselves.
While remodeling may already be considered a sub-category of the larger home improvement industry, you can choose to get even more specific with your offerings. You may choose to focus on kitchens, bathrooms, or helping clients optimize and streamline other spaces like garages.
When considering how to start a remodel business, you not only need to possess fine organizational and management skills, but you should also consider what a personal process this may be for some of your clients, so you should be sensitive to different needs and personalities. There are a few necessary steps to follow, including getting the right materials and equipment, hiring skilled employees, and developing a solid business plan. Additionally, you may want to consider franchising as a way to help you reach your goals. If you can balance all the necessary aspects of this line of work, a remodeling franchise may be right for you.
Write Your Business Plan
Essentially, your business plan should flesh out your business idea and represent it as a straightforward and actionable blueprint. Composing it will also help you learn more about the remodeling industry and help you spot where your business might fit in.
Your plan should outline the services you plan to offer, what differentiates you from the competition, your marketing plan, etc. While there is no set length for a business plan, keep in mind that it's best to keep it concise and engaging while relaying as much information as possible. You want to accentuate the positive while acknowledging any possible challenges you may encounter, and how you plan on solving problems.
These are the key components you should include in your lean business plan:
Business overview –Give a general description of the business model.
Key activities – Outline the home renovation services you'll be offering and your role in the business. Will you be doing the work yourself or contracting outsourced professionals?
Resources available –What key resource will your home renovation business leverage? It could be your skills and expertise in the home improvement industry, a capable labor force, construction/renovation equipment, or a proprietary asset.
Value proposition – Explain the unique value your business brings to the consumers. These are your unique selling points (USP), the attractive qualities that distinguish you from competitors.
Customer segments – Narrow down your target customers. Your ideal customer might be a fresh homeowner looking to turn their new house into a home. Or anyone wanting to raise their property's value for an upcoming appraisal or sale.
Revenue streams – Paint a picture of how the business will make money remodeling homes.
Cost structure – Design a cost structure fitting your business model and its services. More importantly, set an affordable and competitive price point.
General financial plan – Work out what it'll cost to launch and run the business, how you'll get the money, and what the cash flow will look like.
Goals and objectives – You should have a clear vision for your new business. How far do you want to take it?
Consider Your Costs
Starting a new business usually requires a significant financial investment beyond a great idea and good intentions. Running out of cash is one of the top reasons many small start-ups fail. Don't underestimate your business's financial needs. It's essential to make sure you have enough capital to begin with and avoid unnecessary purchases or drawing money out of the business during its infancy.
A major benefit of owning your own remodeling business with an established and reputable franchise is that the business plan is essentially already written for you, including pertinent financial information that will be especially crucial if you are seeking lender assistance to get started. You will also get a straightforward idea of your total initial investment, what liquid capital is required, and what your ongoing fees will be.
Know What You Need
First and foremost, you will need the right materials and equipment to complete your remodeling projects. This may include items like power tools, construction materials, and safety equipment. Additionally, you will need to hire skilled employees who have experience in the industry and can help you complete projects efficiently and effectively.
It's important to remember that the specific materials, equipment, and employees you need will depend on the type of remodeling projects you plan to take on. For example, if you plan to specialize in kitchen and bathroom renovations, you may need different materials and equipment than if you plan to focus on home additions or outdoor living spaces.
Consider Franchising with a Leading Remodel Brand
Franchising can be a great way to start a business in the remodeling industry, particularly for those who are new to entrepreneurship or who want to benefit from the support and resources of an established brand. If you are interested in franchising, it's important to do your research and choose a company that aligns with your goals and values. A home services franchise like PremierGarage can provide a range of benefits, including:
Brand recognition: With PremierGarage, you benefit from the established brand recognition and reputation of the company, as well as the partnership with the leading home services brands under our parent company, Home Franchise Concepts.
Training and support: PremierGarage provides comprehensive training and support to all our franchisees, including assistance with marketing, operations, and ongoing training for you and your employees.
Access to resources: Franchisees have access to resources that would be difficult or expensive to obtain on their own, such as specialty materials, software systems, marketing materials, and industry research to help grow and sustain their business.
To learn more about how PremierGarage can help you start your remodel business with less hassle and more opportunity for success, inquire now.